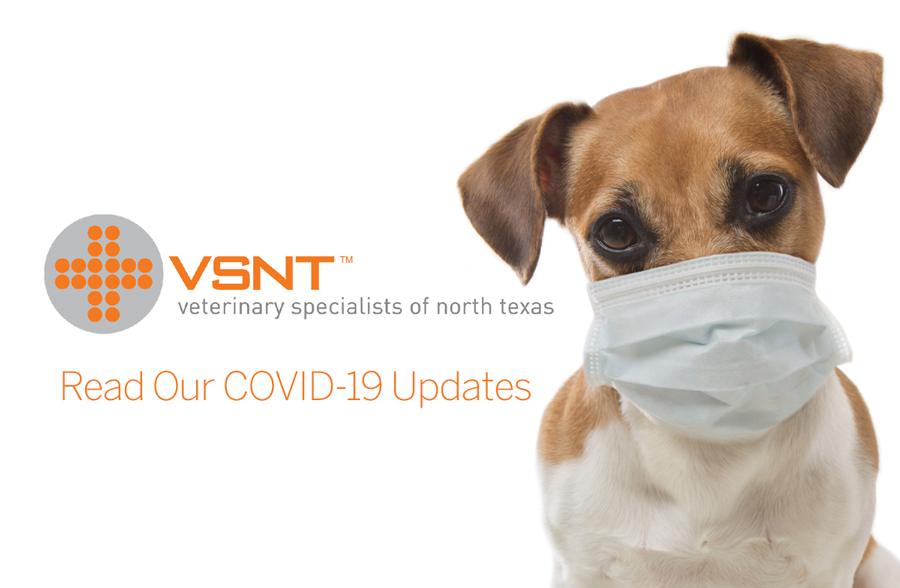 COVID-19 Update
VSNT is committed to doing everything we can to mitigate spread of the novel coronavirus in our population. Our goal is to accomplish that while serving our patients that need our help. We are encouraging our clients to work with us in this endeavor. We realize guidelines may change as guidance from the CDC, as well as local, state, and federal guidelines change.
Currently, VSNT has implemented the following guidelines for our clients and their pets:
If you are ill with a respiratory disease, or have fever, please reschedule your pet's appointment. Our staff will work with you to reschedule an appointment at a more convenient time.
If you have recently traveled to a country that is CDC, Level 3 quarantined, please reschedule your appointment for after your recommended self-quarantine time has passed. As of today's date, those countries include (but may not be limited to):
China, Germany, Italy, Iran, Ireland, Malaysia, South Korea, United Kingdom, and most European countries including: Austria, Belgium, Czech Republic, Denmark, Estonia, Finland, France, Germany, Greece, Hungary, Iceland, Latvia, Liechtenstein, Lithuania, Luxembourg, Malta, Netherlands, Norway, Poland, Portugal, Slovakia, Slovenia, Spain, Sweden, Switzerland, Monaco, San Marino, and Vatican City.
Appointment Arrival Protocol:
Call 817-263-4300 when you arrive at the office.
A VSNT staff member will meet you at the door to admit your pet.
If it is your first visit with us, we will coordinate with you on how to obtain medical history and form a plan to address your pets' illness.
VSNT, and our entire building, has implemented a routine cleaning protocol which includes:
Constantly disinfecting our lobby and common areas.
Disinfecting exam rooms after each appointment to minimize the chances of contamination.
Employee hygiene protocol.
Please know that VSNT is committed to providing the best care for your pet and you.
If you have any questions, please feel free to contact us at 817-263-4300.